you can choose the plants.
the  filled-in form can be attached to an email to  :    jgduijs@xs4all.nl
we will send you a confirmation and an invoice about the total amount.
after your payment we will send your order by mail.
before we post your package you will been informed of the expected delivery.
once your order is shipped we send you tracking information.
---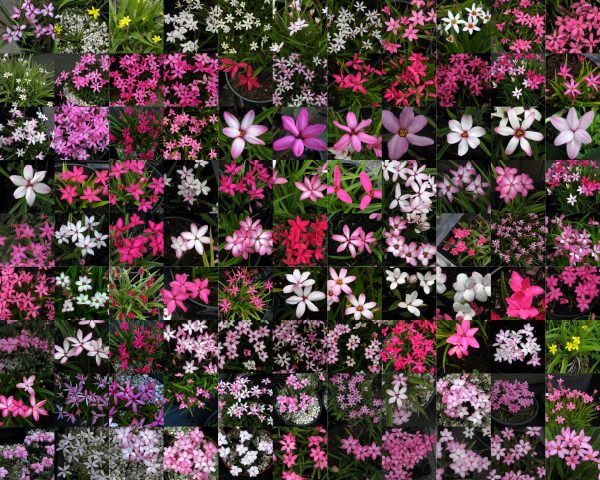 ---
Orderlist 2019   (n.i.l. = new at list)
species/cultivar
flower color and details
price
Rhodohypoxis
R. Coconut Ice
larger creamy flowers, grows well
1 st – 2,25
R. confecta
many light pink flowers, larger plant, grows well
1 st – 2,25
R. Double Jap (n.i.l.)
double red flowers, larger plant, flowers that bloom for a longer time
1 st – 3,25
R. Goya
double coconut white flowers, smaller plant
1 st – 2,25
R. Lily Jean
many double pink flowers, grows very well
3 st – 3,75
9 st – 7,25
R. m. Beverley
many beautiful red flowers, blooms for a longer time, grows vigouresly
1 st – 2,75
3 st – 5,25
R. m. Claret
larger plants with red flowers, leaves keep growing
3 st – 3,75
R. m. Damask
rose red flowers, grows well, normal plant
1 st – 2,25
R. m. wit (n.i.l.)
white flowers, larger plant, blooms for a longer time
1 st – 4,25
R. Pintado
many bicoloured flowers, well known plant
1 st – 2,25
R. thodiana
early and distinct plant, small white with pink flowers
1 st – 1,75
Rhodoxis
Rhodoxis Aaltje
many small pink flowers, blooms for a long time
1 st – 3,25
Rhodoxis Abigail
pink flowers, nice plant, flowering over a prolonged period
1 st – 2,25
Rhodoxis Anne Crock
creamy flowers, smaller plant, flowering well
1 st – 2,00
3 st – 4,75
Rhodoxis Aurora
larger plant, flowers white with some pink, growing well
3 st – 3,75
Rhodoxis Aya San
nice compact plant, blooms for a lontger time, white with a little pink flowers
3 st – 3,75
Rhodoxis Mrs. Betsy
larger beautiful red flowers, larger plant grows vigorous
1 st – 2,75
3 st – 5,75
5 st – 7,75
Rhodoxis Bianca
small plant, litlle cream-white flowers, blooms for a longer time
1 st – 3,75
Rhodoxis Bloodstone
smaller red flowers, nice plant, flowering over a prolonged period
1 st – 2,25
Rhodoxis Cerise
cerise flowers, larger plant, flowering and growing well
3 st – 3,75
9 st – 7,25
Rhodoxis Charlot
small plant with many small pink flowers, growing well
1 st – 3,75
3 st – 7,75
Rhodoxis Evelien
larger blush pink open flowers, blooms for a long time, grows vigorously
1 st – 3,00
Rhodoxis Fairy Kisses
beautiful two coloured flowers, good plants
1 st – 2,75
3 st – 5,25
Rhodoxis Fanny
large plant with many pink flowers, grows well in 3 l pot
1 st – 2,75
Rhodoxis Hendrika
pink red flowers, inner petals are shorter than outer petals, larger plant
1 st – 3,25
Rhodoxis Hebron Farm Pink
many smaller pink flowers, flowering well, smaller plant
3 st – 3,75
Rhodoxis hybrida
small plant with many creamy white flowers, flowering well
3 st – 3,75
Rhodoxis Irene
nice plant, creamy flowers, blooms for a longer time
1 st – 2,25
3 st – 4,75
5 st – 6,75
Rhodoxis Jannie
larger open two coloured flowers, flowering well
1 st – 3,25
Rhodoxis Jenny
larger plant, larger pink flowers, growing vigorously
1 st – 2,25
3 st – 4,75
Rhodoxis Jorien
nice plant, many pink flowers, growing well
1 st – 2,25
3 st – 4,75
Rhodoxis Little Pink Pet
smaller plant, many pink flowers, blooms for a longer period
1 st – 2,75
Rhodoxis Maartje
many open pink flowers, long flowering time, growing well
1 st – 2,75
Rhodoxis Mies (n.i.l.)
white flowers, smaller plant, blooms for a long time
1 st – 4,25
Rhodoxis Naatje
special two coloured flowers, growing well
1 st – 3,25
Rhodoxis Otterlo Ruby
large pink flowers, largest plant, growing well in 3 l pot
1 st – 2,25
3 st – 4,75
Rhodoxis Pink Stars
pink red flowers, larger plant, many flowers
1 st – 2,75
Rhodoxis Ria
two-coloured flowers, smaller plant, many flowers
1 st – 2,25
3 st – 4,75
Rhodoxis Ruby Giant
many ruby flowers, larger plant, growing very well
1 st – 2,25
3 st – 4,75
5 st – 6,75
Rhodoxis Sandra
small plant, many little pink flowers, growing well
1 st – 2,75
Rhodoxis Sandy
Hypoxis seedling, blooms more than 4 monates, growing well
1 st – 3,00
3 st – 7,25
5 st – 9,75
Rhodoxis Sarah (n.i.l.)
white with pink flowers, larger plant, growing well
1 st – 4,25
Rhodoxis Sonja
many pink flowers, smaller plant, growing very well
1 st – 2,25
3 st – 4,75
5 st – 6,75
Rhodoxis Sue (n.i.l.)
small plant, many little pink flowers, growing vigorously
1 st – 2,75
3 st – 5,25
Rhodoxis Trijntje
many pink flowers, larger plant, growing very well
1 st – 2,75
Rhodoxis White Sandy
plant like R. Sandy, white flowers
1 st – 4,75
Rhodoxis Willie (n.i.l.)
larger pink red flowers, larger plant, growing well in 2l pot
1 st – 4,25
Summerbulbs
Acis autumnalis
autumn flowering, small white flowers
3 st – 2,75
Albuca nelsonii
larger plant, white flowers
1 st – 5,25
Albuca spiralis
yellow flowers, spiral leaves
1 st – 4,75
Cypella herbertii
yellow flowers on long stems
1 st – 4,25
Drimia indica (n.i.l.)
large plant, lots of small green flowers
1 st – 4,75
Hypoxis angustifolia
smaller plant, long-term flowering, growing well
1 st – 3,75
Hypoxis setosa
compact plant, long-term flowering
1 st – 4,25
Hypoxis villosa (n.i.l.)
larger plant, long-term flowering
1 st –15,25
Oxalis inops
pink flowers,
5 st – 1,25
25   – 5,25
Oxalis vespertilliones
purple flowers
5 st – 2,25
Polygonatum curvistylum
purple flowers
1 st – 2,75
3 st – 5,75
Scilla peruviana
larger plant, blue flowers
1 st – 4,25
Scilla peruviana Alba
same plant, white flowers
1 st – 4,25
Smilacina racemosa
small white flowers, red berries, larger plant
1 st – 3,25
3 st – 7,75
Smilacina stellata
Very small white flowers
1 st – 2,75
Tulbaghia coddii
very small high scented white flowers with green yellow flowers, fliform foliage
1 st – 5,00
Tulbaghia comminsii
small white flowers with creamy white corona, delightfull scented
1 st – 4,00
Tulbaghia leucantha
small pale green flowers with brown to orange corona
1 st – 3,00
Tulbaghia leucantha small
as above but half in heigth
1 st – 1,75
Tulbaghia natalensis
little pinkish-mauve flowers with green to orange corona, intens scented
1 st – 2,25
Tulbaghia simmleri Alba
winter flowering, sweet scented white flowers, very broad leaves
1 st – 7,50
Tulbaghia violacea
larger plant, pinkish-violet flowers with violet to white corona
1 st – 1,75
Tulbaghia violacea Alba
as above with white flowers
1 st – 2,25
Tulbaghia v. maritima
broad leaves, flat violet flowers with small yellow corona
1 st – 2,25
Tulbaghia Cosmic
nice plant, pale-pink flowers with golden yellow corona, grows well
1 st – 7,50
Tulbaghia Enya
pale-pink flowers with green pink corona
1 st – 4,75
Tulbaghia Moya
many purple flowers with brown corona, scented
1 st – 4,75
Tulbaghia Seren
pink violet flowers, three inner petals with white
1 st – 10,00
Package and shipping costs
10 euro